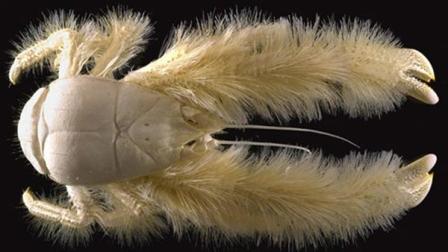 TO be confused with the (Hassel)Hoff...
I thought David's appearance in the SpongeBob SquarePants Movie was the Hoff's only claim to fame in the marine world. Yesterday, I was proven wrong in that assumption. "The Hoff," was discovered with a handful of other species living around volcanic vents on the floor of the southern ocean near South Georgia. "The Hoff's" neighbors include pale octopus, barnacles, sea stars and crinoids.
David Hasselhoff is obviously well-versed in "marine life." 

Keep in mind that "The Hoff" is just a nickname for this newly discovered Yeti Crab species. "The Hoff," is still awaiting a more "scientific" name. 
Sources: